Amazon Black Friday Quiz Time – Answer 6 simple questions and win Rs 10000 pay balance
Black Friday Sale is the biggest shopping event in USA and now Amazon will bring the sale from the international market to India too through Amazon Global Store. In order to promote the sale, Amazon has come up with Black Friday Quiz Time in which you need to answer 6 simple questions and if you are lucky, you will get Rs 10,000 amazon pay balance for absolutely free.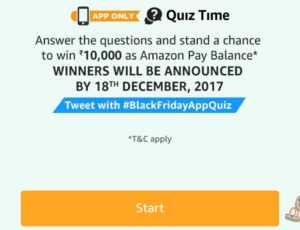 For your ease and convenience, we have also added all the answers below. Check and participate now. A total of 20 winners will be announced for this contest that is being held today i.e. 23rd November.
How to win Rs 10,000 balance from Amazon in Black Friday Quiz?
1 . Download Amazon App from here
2. Open the app and you will see a banner about the Amazon Black Friday Quiz Time contest. Click on it.

3. Now click on the 'Start' button to begin the quiz.
4. You will now see a set of 6 questions about the Black Friday sale, its timings etc. Check out the answers below –

Q1) Which of these Amazon.in offerings help you buy authentic imported products from international brands across the world?
Ans – Amazon Global Store

Q2) How can you identify products from Amazon Global Store distinctly while browsing through Amazon.in site?
Ans – All products have the 'Global Store Badge'

Q3) Which of these is NOT a benefit of shopping from Amazon Global Store?
Ans – Free Haircut with every purchase

Q4) Which of these is one of the biggest sale events of the year in USA?
Ans – Black Friday
Q5) This year, Amazon Global Store will feature deals from Black Friday, where customers from India have access to discounts on international brands, directly from Amazon USA?
Ans – True
Q6) When does the Black Friday Sale 2017 start on Amazon India?
Ans – 12 AM IST, 21st November 2017
5. After answering all 6 questions correctly, you will get a Congratulations message that you have been entered into a lucky draw. Now keep your fingers crossed and wait for the results to be announced by 15th December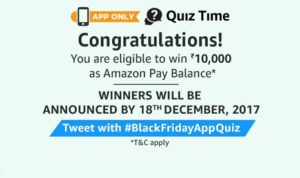 All the best for Amazon Black Friday Quiz Results 🙂
Terms and Conditions
This Contest period is 23rd November 2017 from 12:00:00 AM (IST) to 11:59:59 PM (IST)
A user can participate by navigating to the page where 6 (five) questions will be posted during the entire Contest Period.
On answering all the quiz questions correctly, the user will be entitled to a lucky draw which will be carried out amongst participants who have answered that particular question correctly.
A total of 20 participants will be selected as winners of the Contest who answer all 6 (Five) questions correctly by 15th December 2017
The declared winner(s) will be eligible for winning Rs 10000 amazon pay balance as a prize.