Amazon Kindle Quiz Time – Answer 10 simple questions and win a Kindle E-reader. Quizzes have become a quite common occurrence on Amazon App wherein users just need to answer few simple questions and they get to win exciting prizes. Today on 22nd November, Amazon is back with Kindle e-reader quiz time in which on answering 10 questions correctly, you will be entitled to a lucky draw and 13 winners would be given Kindle E-Readers for free of cost.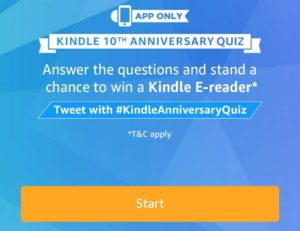 For your ease, we have also added all the answers to the 10 questions below. Please check and participate in this contest. You never know when your luck will play its part.
How to GIve Amazon Kindle Quiz Time Answers | Win a Kindle E-reader?
1 . Download Amazon App from here
2. Open the app and you will see a banner about the Kindle E-Reader Quiz Time contest. Click on it.

3. Now click on the 'Start' button to begin the quiz.
4. You will now see a set of 10 questions about the Kindle e-reader specs, some ficitional questions. Check the answers below.

Q1) Kindle e-readers use actual ink particles and proprietary, hand-built fonts to create crisp text similar to what you see in a physical book.?
Ans – True

Q2) Which of these is NOT a feature of the All New Kindle Oasis ?
Ans – 3D Printing

Q3) What is the display size of the All New Kindle Oasis?
Ans – 7 inch

Q4) What is the maximum on device storage available on the All New Kindle Oasis?
Ans – 32  GB
Q5) In which of these fantasy novel series does the character 'Dobby' appear?
Ans – Harry Potter
Q6) Which of these offerings gives you unlimited access to over 1 million Kindle e-books across devices?
Ans – Kindle Unlimited
Q7) Books in which of these languages are currently NOT supported on Kindle?
Ans – Dothraki
Q8) Which of these is NOT a fictional language?
Ans – Frisian
Q9) The Whispersync feature on the Kindle helps you synchronize the last page you read across devices and apps
Ans – True
Q10) Which of these is NOT a genre of writing in books?
Ans – Metal
5. After answering all 10 questions correctly, you will get a Congratulations message that you have been entered into a lucky draw. Now keep your fingers crossed and wait for the results to be announced by 15th December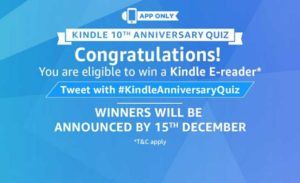 All the best for Amazon Kindle E-Reader Quiz Results 🙂
Terms and Conditions
This Contest period is 22nd November 2017 from 12:00:00 AM (IST) to 11:59:59 PM (IST)
A user can participate by navigating to the page where 10 (five) questions will be posted during the entire Contest Period.
On answering all the quiz questions correctly, the user will be entitled to a lucky draw which will be carried out amongst participants who have answered that particular question correctly.
A total of 13 participants will be selected as winners of the Contest who answer all 10 (Five) questions correctly by 15th December 2017
The declared winner(s) will be eligible for winning Kindle e-reader as prize